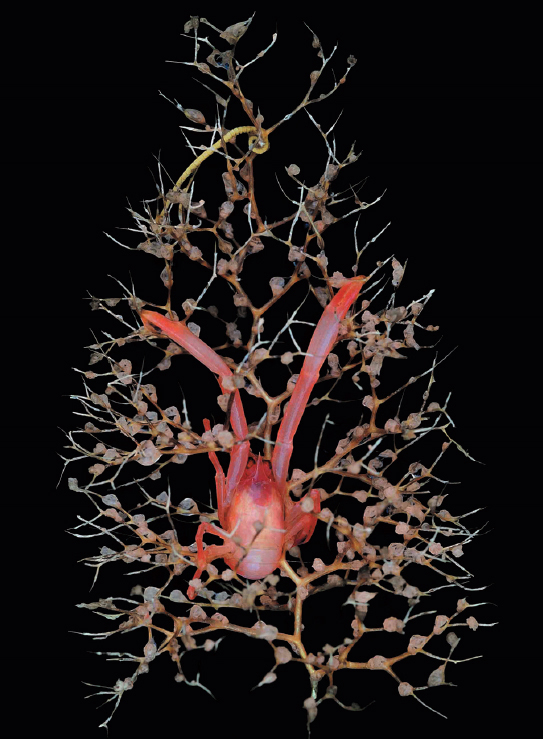 Uroptychus nigricapillis associated with gorgonian corals.
Image ~ &copy National Taiwan Ocean University
Squat Lobsters
Squat lobsters are dominant, numerous and highly visible crustaceans on seamounts, continental margins, many shelf environments, coral reefs at all depths, and at hydrothermal vents. More than 870 species are known. They frequently feature in deep-sea images taken by submersibles and are caught in large numbers by benthic dredges. Some species are so locally abundant that they form 'red tides'. One species, the so-called 'yeti-lobster' became an international press celebratory when it was reported as a new species in a new family in 2005.
Squat lobsters are members of the crustacean order Decapoda, along with crabs and shrimps, but are more related to hermit crabs. They have traditionally been divided into three families.
The taxonomy of the squat lobsters has been intensively studied over the past few decades, making them one of the best known deepwater crustacean 'groups'. As a result, they have attracted the attention of deep-sea ecologists using them as proxies to test various hypotheses about deepwater ecological processes and biogeography. Interest in squat lobsters now extends much more widely than the taxonomic community.
This website is the result of work supported by the Census of Marine Life project COMARGE (Continental Margin Ecosystems). COMARGE funded a workshop in Wellington, New Zealand, in 2007 attended by squat lobster biologists from around the world and a symposium in 2010 at the Seventh International Crustacean Congress in Qingdao, China. As a result, a checklist of all species and bibliography of squat lobster literature are now freely available. In addition, COMARGE has supported a Research Fellow to bring together and make available various studies and to publish: (1) free web-based illustrated multi-choice keys to identification for all known species; (2) DELTA databases for description of species, and (3) a book on the biology and identification of squat lobsters. This website provides links to these sources.
The Delta databases available for download from this site are in TEST phase and will be regularly updated. For further information regarding these databases please contact Comarge Research Fellow Dr. Joanne Taylor jtaylor@museum.vic.gov.au
Dr Joanne Taylor, COMARGE Research Fellow, Museum Victoria
Dr Gary C. B. Poore, Principal Curator (Marine Biology), Museum Victoria