Chrysopetalidae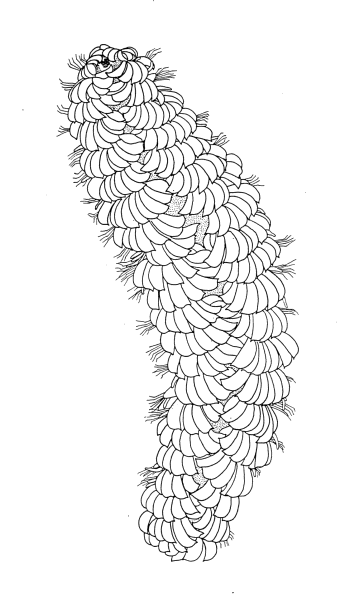 These small, mobile polychaete worms are distinguished primarily by their biramous parapodia which support golden or silver-coloured, flattened notochaetae (= paleae) and/or spines that form semi-radiate, imbricating fans covering the dorsum. Both notochaetae and the shafts of falcigerous compound neurochaetae are composed internally of longitudinal channels stacked with transverse septa. Chrysopetalids have a well-differentiated prostomium with a posterior nuchal organ, a pharynx with two jaws and a pygidium with two pygidial cirri and/or conical appendage.
The above description is taken from Watson Russell (2000).
Recognising the family
Members of the Chrysopetalidae are easily distinguished from all other families by the dorsal rows of golden, iridescent paleae. Most species are small, but some may reach several mm in length.
Distinguishing species
Complete individuals are required for identification. In genera where the prostomium is completely hidden by the paleae these must be carefully removed to reveal the prostomial structures. Species may be distinguished based on body shape, development of the caruncle and the nuchal fold, as well as the shape of the palps. The chaetal structure and the distribution of palae and other chaetal types along the body are important characters; use of SEM may help with these characters.
Description | Identification tips | Natural History | Diversity | Checklist | References | Interactive Key